Bearing Witness: The Trial of Jerry Sandusky (Day 3)
The day began with the prosecution calling John McQueary to the stand.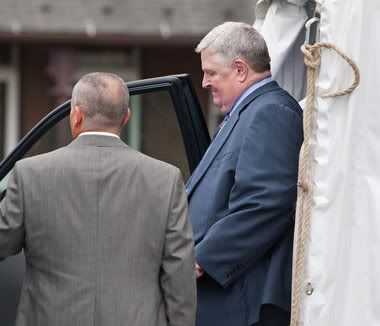 Suffice it to say his appearance surprised me.  He was a very large man, not only in stature, but also in weight.  I don't know what I expected, but when you hear that he was a CEO of a physician's practice, reality didn't quite live up to expectation.
Not only was his appearance surprising, but also his seemingly inability to articulate his thoughts.  He came across as daft at times, seemingly unaware of simple things he was asked.  He stuttered at one point when telling what Mike McQueary told him on the phone on the night in question, stating that he was "trying to say it like Mike did" but that "he wasn't a very good actor."  He began by saying that he talked a lot and basically asked the prosecutor if he would keep him on track.  Something along the lines of well, you know I like to talk a lot so just let me know
McQueary senior stated that he had an already scheduled meeting on his calendar with Schultz a few months after this incident.  He said he took the opportunity to follow-up with Schultz to see what, if anything had been done in this case.  John McQueary stated that Dr. Dranov was at this meeting as well.  McQueary couldn't recall if he broached the subject at the beginning of the meeting or at the end of the meeting, but did say that Schultz definitely knew what he was talking about because he reiterated what Mike had told him.
In a revelatory moment, John McQueary testified that Schultz told him that he had "heard noise about (allegations) before" 2001, when Mike McQueary reported witnessing Sandusky and a young boy in a sexual position in a locker room shower.
Of course, whether this testimony stands or not remains to be seen.  Because on cross-examination, there was an interchange between Rominger and McQueary that left, if not the entire gallery, at least me scratching my head going what just happened?
Karl Rominger on his cross-examination asked John McQueary why he didn't call the police.  Rominger then said "Are you aware that you are a mandatory reporter?"
McQueary (let me remind you, a CEO of a physician's practice) responded that he didn't know and sort of shrugged it off.
Next Rominger asked him what WOULD it have taken for John McQueary to call 911 that night – what would Mike McQueary have had to say to him.
"Crying, screaming, someone injured, I don't know," John McQueary testified. "That sounds like a 'what if.' Whatever had taken place was over by the time he saw me. It's not like I walked in on it."
So according to John McQueary, child rape does not constitute an "injury". But this isn't the strangest part.
In their next exchange, Karl Rominger asked John McQueary if he remembered testifying in Dauphin County Courthouse in a preliminary hearing.  John McQueary said he had never BEEN in Dauphin County Courthouse.  Rominger approached the witness, showing him a certified transcript of a court proceeding that occurred in this courthouse, asking him to verify that he was on the witness list and had him read (to himself, not to the court) his sworn testimony.
He then started to ask a question about said testimony when Judge Cleland shut him down saying "The witness just said he was never in that court house."
The baffling thing to me at least is that the Prosecution had the opportunity to re-direct in order to clarify any lingering issues, but chose not to.  Seemingly neither party, the prosecution nor defense, got what they wanted from John McQueary.
"He told me if I told anyone that I would never see my family again"
Subverting Amendola's continued assertations that all of the victims have "lawyered up" and are only in this for financial gain, Victim 10 took the witness stand.  When McGettigan asked how he came to be involved in this case – did detectives track him down or some other way? Victim 10 stated that he called the hotline after the Jerry Sandusky story broke. 
His troubled youth was what got him referred to the Second Mile, a foster kid, Victim 10 was removed from the home he shared with his mother and placed into a foster home and referred to the second mile in 1998.  Following a similar pattern that has, frankly, become predictable, the victim met Mr. Sandusky at a camp for the Second Mile, shortly thereafter, Mr. Sandusky called the victim's home, arranging to take the young boy to a football game.  The boy later went to his house and down to the basement.
(((Triggering))) Here, Mr. Sandusky started wrestling with the boy and pinned him down to the ground.  He pulled down the boy's pants and started performing oral sex on him. Afterwards, Mr. Sandusky departed from his normal actions and actually threatened this boy, saying that if he ever told anyone he would never see his family.  Mr. Sandusky later apologized for saying that and took the victim shopping for school clothes.
"He apologized for saying that and that he didn't mean it and that he loved me," Victim 10 said.  Sandusky went on to abuse Victim 10 five or six more times.  Victim 10 eventually told his foster mother that he didn't want to go to Sandusky's house anymore.  Shortly thereafter, Victim 10 was returned to his biological mother.
Victim 10′s history is checkered with a couple of burglaries and conviction, spending 22 months in jail.  However, when asked how he was doing now (he's 25), the victim said better, that he was married and that they're expecting.  You could hear even the most seasoned reporters choke up a bit at that piece of good news…
The foster mother for Victim 10 took the witness stand and corroborated his story, stating that Mr. Sandusky had had previous contact with the boy prior to his coming into her home.  Shortly thereafter called her and began taking the victim to football games.  She also stated that Mr. Sandusky gave the boy gifts
"To this day I'm sort of repulsed by chest hair"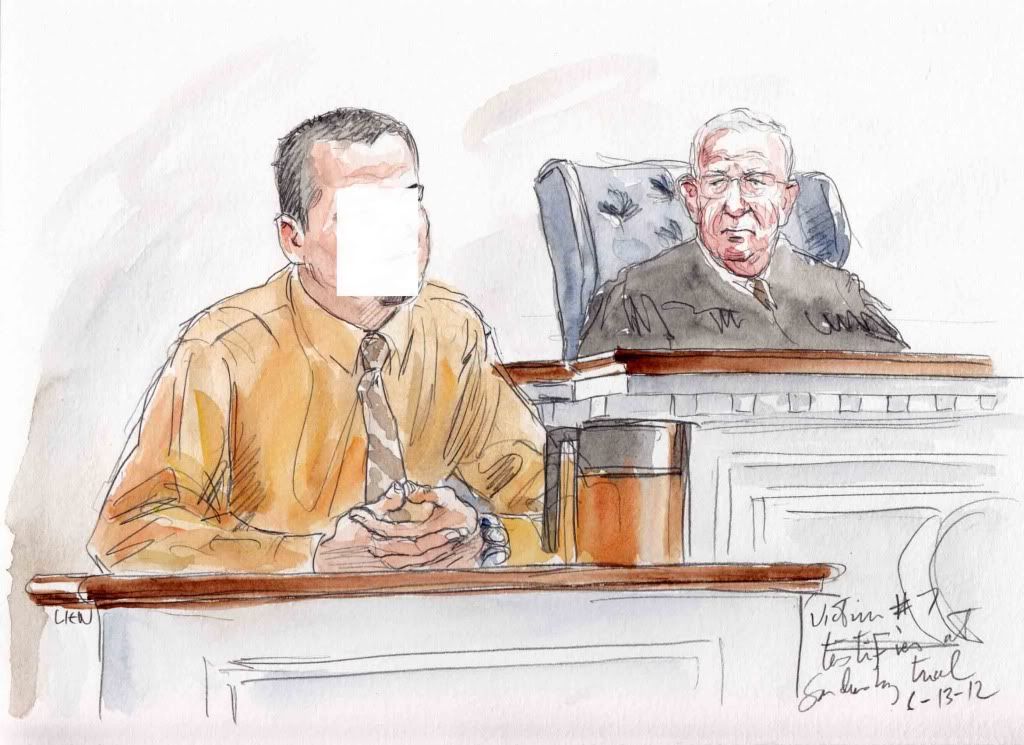 Victim 7 seemed to get himself into a bit of trouble when it came to the cross-examination.  A link to a good recap of his testimony is here,but in the interest of brevity (and because quite frankly I'm dead tired), I'm only going to post a few of mine and Rebecca's thoughts about this victim.
Jerry Sandusky appears to have a "type"-and Victim #7, at least physically, fits it to a T. Jerry likes his boys small. When the prosecution put up a picture of Victim #7 on the projector screen, I thought I was looking at a child who was 7 years old. There was an audible gasp in the courtroom when the backside of the photograph was shown-showing the victims name, and stating that he was 12 years old at the time it was taken.
Victim #7 is 27 years old, and still looks young for his age. Because of his upbeat personality,  I found his testimony the easiest to listen to out of all of the victims who have taken the stand so far.
Victim #7 testified that in 1995, when he was 10 years old, he was referred to the Second Mile program by his guidance counselor because he was having problems in school. He stated that he loved the camp, and had a great time. He first met Jerry Sandusky when he approached him in the pool, and asked him if he liked Penn State football, and if he would like to go to one of the games. Shortly thereafter, he called Victim #7′s home and asked his mother if he could pick him up and take him to a Penn State football game.
After going to that first game, Victim #7 began going to PSU football games with Jerry Sandusky frequently. He testified that he went to every single home game from the years 1996-2009. In the beginning, he went to all of these games with Jerry and his family.  But soon, that privilege would be withheld.
Victim #7 testified about several instances of physical contact that made him feel uncomfortable.
First, he testified that when he was in the car with him, Sandusky would often put his hand on the victims leg and squeeze him-so hard that he said he would sometimes cry out in pain.  He also testified that when he would stay over at Jerry's house, he would sleep in the upstairs guest room.  Jerry would come into his room and climb into bed with him, pressing his body against him.  Sometimes Jerry would be in a t-shirt and shorts or jogging pants.  Sometimes Jerry wouldn't have on a shirt.  At this point the witness spoke into the microphone and said "to this day, I'm sort of repulsed by chest hair."
Victim 7 said he got Jerry to leave during these times by saying he was going to go to bed – that he was ready to read himself to sleep.
On cross-examination, Amendola stressed multiple times that Victim 7′s story has changed, since he retained counsel.  He went over grand jury testimony that conflicted with Victim 7′s testimony today.  He had the victim read the glowing remarks he had written about Jerry Sandusky on a scholarship application:
"Jerry Sandusky, he has helped me understand so much about myself. He is such a kind and caring gentleman and I will never ever forget him.""This is the same Jerry Sandusky you've been telling the jury about for the last hour, no?" Amendola asked

"Not to me no," Victim 7 responded.
Victim 5
I had moved up a couple of rows at this point – into the "Media" section. Yes, I decided to "break the rules" and get a better view.  Perhaps it was this new vantage point that made me acutely aware of the 4 people sitting two rows ahead of me to my right, in the rows reserved for the Prosecution.  Another woman sitting behind this group was comforting an older lady sitting there.  I suddenly realized this was the family for the next victim – Victim 5.
Breaking the typical profile that appears to be forming, Victim 5 came from a two-parent household and was referred to the second mile because a counselor thought he needed help with his English.  Apparently English wasn't the first language of his parents, but when asked by the Prosecution if he needed help with his English, Victim 5 said no.
He met Mr. Sandusky at the Second Mile summer camp at Penn State University.  Following his typical pattern, a few days after camp, Mr. Sandusky called the boy's home to see if he wanted to go to a Penn State football game.  The Victim went to the game and subsequent games with Mr. Sandusky and enjoyed them.  Mr. Sandusky then called the victim and asked him if he wanted to work out.  The victim agreed, and Mr. Sandusky picked him up at home.  On this occasion and others, the victim said Mr. Sandusky put his hand on his thigh as they were driving (seeing a pattern here?)
Following their "work out" (and that's in quotes not because it's a direct quote, but because the workout consisted of Jerry putting the boy on a treadmill very briefly, putting him on a barbell machine that the kid couldn't even pull down, and then asking the kid to go into the sauna).  After a brief visit to the sauna, Jerry said let's go get a shower.
Although it was only once, the trauma of this incidence reverberated through the courtroom as this young man tearfully recounted the attack.
As I glanced over at his family, I saw his older brother sobbing.  And he wasn't the only one.  I heard many people crying as the boy spoke about the predatory way in which Jerry Sandusky backed him into a corner in that shower.  How he was terrified.
"I noticed he started coming in my direction," he testified. "He threw some soap at me and started lathering my shoulders. I crept forward a little bit more, as did he, and I felt his body on my back. I kept lurching forward but I didn't have anywhere to go."
After Jerry forced him to touch him, the boy escaped the shower and remembers toweling off. On the car ride home, he remembers that Jerry did not say a word to him, and would not even make eye contact. After he dropped him off, he never called him again, and never took him to any more football games. When Attorney McGettigan asked him what he thought about this, Victim #5 said "I thought he was upset with me". When asked if he told his parents about what happened, like all of the other victims who have testified so far, he stated he had not. When asked why, he said "I wanted to forget, and I was embarrassed". McGettigan asked him if he was upset by this at all, he testified that he was. "I wanted to go see the games" he explained. But Jerry Sandusky would no longer speak with him, let alone take him to Penn State games-leaving Victim #5 thinking that he had done something wrong.
There was really not much of a cross-examination.  How do you defend the indefensible?
A virtual view into what we saw – now you, too, can sit in the pew
In an interesting change up to the previously predictable proceedings, the prosecution called Bob Costas to the witness stand (ok, not really, but Bob Costas was in fact in the courtroom today – at least his voice was).  The jury listened to a 10 minute interview Bob Costas did with Jerry Sandusky back in November.  They were not shown the video, but instead a still shot of Costas and Amendola on the left and Jerry Sandusky on the right on the overhead projector (artist's rendering follows):
"THE" Bob Costas – here?
The fact is everyone in the gallery did, in fact, think following the Bob Costas audio (and still photos being displayed) that Bob Costas was called to the witness stand.   Rebecca overheard several members of the media excitedly calling in the breaking news of the surprise witness. We were then sorely disappointed when another man started to enter (it was NOT Bob Costas, however the name McGettigan said sounded very similar!)The witness wasn't even able to take a seat in the witness stand before being immediately removed and, after a short recess where the jury was taken out of the courtroom, the prosecution had to present the evidence it wanted to introduce, defend the reasoning behind it, allow the defense to debate the issue with the end result being Judge Cleland's ruling.
The issue surrounded hearsay evidence the prosecution wanted to share with the jury.   Hearsay evidence, typically, is not allowed into the record.  Except when it comes to "excited utterances."  Generally it applies when a witness makes "A statement relating to a startling event or condition made while the declarant was under the stress of excitement caused by the event or condition."
After a few rounds of intellectual gymnastics with the lawyers citing case law and its applicability, Judge Cleland ruled that the prosecution had made its point and that the hearsay evidence could be heard by the jury.
Enter Ronald Petrosky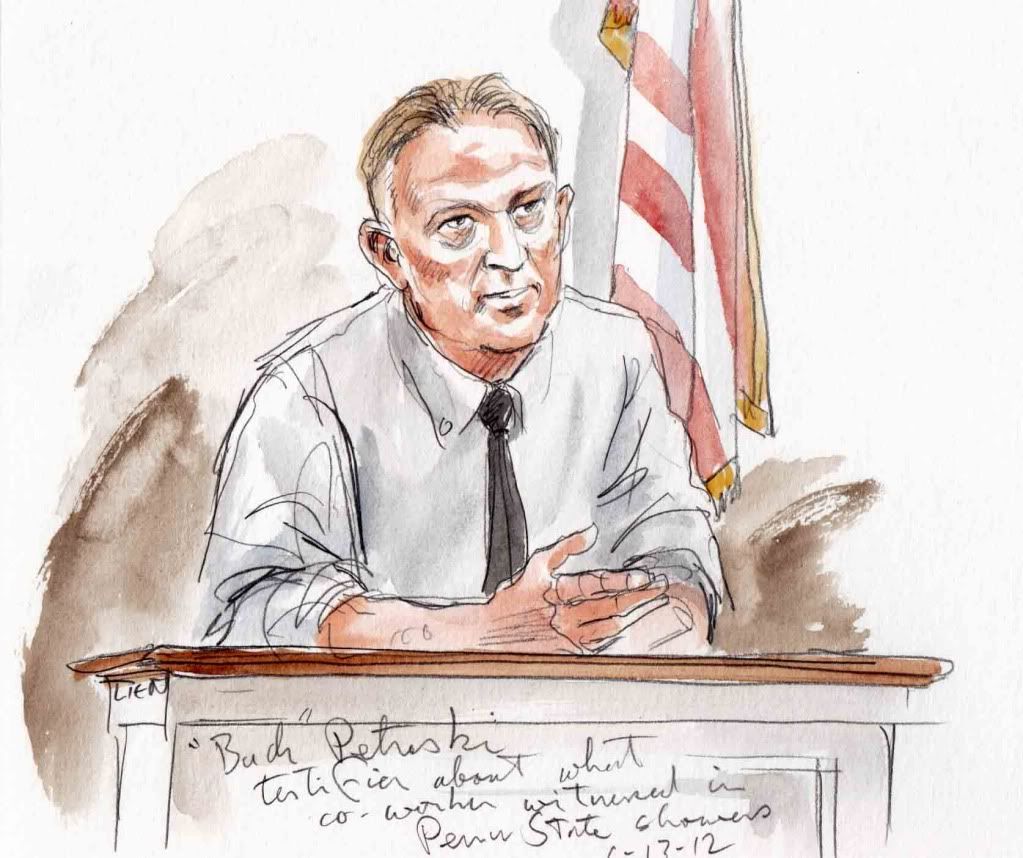 Mr. Petrosky testified that in the fall of 2000, he was working the 7 pm to 3 am shift cleaning the showers at Penn State.  A co-worker of his, Mr. Calhoun, was in the staff locker room cleaning the toilets when Mr. Petrosky entered.  Although Mr. Petrosky heard the showers running, he didn't think it was an unusual occurrence, stating sometimes people would exit the shower without turning off the water.  However, as Mr. Petrosky was hooking up his hose under the sinks, he noticed 4 legs in the shower and immediately exited the room, thinking he would allow whoever was in the shower to finish and then return to clean the shower when they were done.About 5 minutes later, Mr. Petrosky stated that Jerry Sandusky exited the shower with a young boy.  He said "Good Evening, Coach" to Mr. Sandusky and watched him and the young boy walk down the hall.  He said about 2/3 of the way down the hall, Mr. Sandusky grabbed the boys hand. They disappeared down the hallway, headed up to Sandusky's office.
As he was heading back into the shower to clean, he met Jim Calhoun between the set of double doors.  He stated that Mr. Calhoun was white and his hands were shaking.  Mr. Petrosky was concerned for his health (as Mr. Calhoun was an older gentlemen).
****Possibly Triggering***** He said, 'Buck' — that's my nickname– 'I just witnessed something in there I'll never forget the rest of my life. The man who just left, he had the boy up against the shower wall licking on his privates.'" And, when pressed by the prosecution a bit later in his testimony about the specific language Mr. Calhoun used 30 minutes later with several janitors around, Mr. Petrosky said, "He had that little boy up against the wall and he was sucking his dick."
Mr. Petrosky also testified that around 10:30 or 11:00 pm that same night he was cleaning the windows and saw Mr. Sandusky driving slowly through the parking lot.  Again, around 2:30 a.m. right before he got off of work, Mr. Petrosky was taking out the trash and saw Mr. Sandusky driving slowly through the parking lot at that time.
The predatory behavior continues….
Impressions
We are too tired to really do impressions-but we both feel that today was not a good one for Jerry Sandusky. A very disturbing pattern is emerging through the testimony-that of a serial child predator, with a very predictable MO. It's beginning to feel like groundhog day, hearing these stories from the victims unfold- It starts with a child at the Second Mile. Jerry Sandusky always seems to approach them in the water first. He calls their house and takes them to football games. His house or the shower. Putting his hand on the leg while driving, and moving it up towards the groin. It is all becoming so mind-numbingly predictable that even as survivors we sometimes need to take a step back and remember that while Sandusky's grooming and abuse was virtually the same across the board, each of his victims was a unique individual deserving of their day in court, and justice for the crimes committed against them.
Previous                           Next