Bearing Witness: The Trial of Jerry Sandusky (Day 4)
Testimony began with Victim 6, the 1998 case investigated by Penn State Police, State College police, Children and Youth Services, and the DA's office, ultimately resulting in no charges being filed.
A very well spoken young man, around 25 years old, took the stand and testified that when he was 11 years old, he met Jerry Sandusky at a Second Mile picnic.  Shortly thereafter, Mr. Sandusky picked him up from his house to go to the workout facility at Penn State.  An avid Penn State fan, the victim stated " Anything to do with Penn State, I wanted to be a part of it." and "I was really excited to meet him [Sandusky]."
In the car, Sandusky put his hand on Victim 6′s knee, which made the 11 year old boy feel uncomfortable.  "I felt uncomfortable with it. But it was Jerry Sandusky, so I didn't want to make him mad," Victim 6 said.
Arriving at Penn State, Sandusky showed the boy the player's and coaches locker rooms, letting him try on some gear (helmets and such).  He then showed him the exercise room where they worked out about 15 minutes.  Following this brief workout, Sandusky told the boy it was time to take a shower.
Sandusky was already in the shower when the victim entered and had the shower next to him running for the boy.  Victim 6 entered the shower and went to the opposite wall and turned on that shower, but Sandusky basically guilted him into coming over to the one next to him.  He then started tickling the victim.
"He said he was the tickle monster," Victim 6 testified. He said Sandusky also grabbed him from behind in a bear hug and lifted him up to the shower head to rinse the soap from his hair. 
The victim said he didn't remember anything after that, that he sort of "blacked out" – didn't remember Mr. Sandusky putting him down, didn't remember toweling off, but remembers when he got home talking to his mother.
Victim 6 said he gave his mother a very brief synopsis of what he saw, the locker rooms, workout room, and said "oh and if you want to know why my hair is wet, it's because we took a shower."  He then ran up the stairs to his room and closed the door.
Alerted, Victim 6′s mother immediately followed him upstairs, entered his room and questioned him further about the showering incident.  She then immediately called the Penn State Police and reported her suspicions.
Are you reading this Mike McQueary – THIS is how you respond to suspicions involving inappropriate behavior with a child.
Victim 6 was very upset with his mother thinking she was making a big deal out of it.  Of course, as we all know now, there was an investigation, including detectives hiding in the house, listening to a conversation between his mother and Sandusky, interviews of Jerry Sandusky by Ronald Schreffler, a psychologist and counselor, ultimately resulting in DA Ray Gricar choosing to not file charges.  (Ronald Scheffler testified next – but rather than reinvent the wheel, here's a link regarding his testimony.
On cross-examination, Amendola confirmed with the victim that following this incident, the victim maintained a relationship with Jerry Sandusky and his wife, sending him Thanksgiving cards, Father's day cards, borrowing his car last summer, and text messages.
When Mr. Amendola pressed him on this issue, basically trying to tie in the fact that his testimony changed only after he obtained legal counsel, Victim 6 replied, "As I started to go over it in my mind I quickly realized, my perception changed thinking about it as an adult as opposed to an 11-year-old," he said. "That was inappropriate, what happened to me."
Asked whether he was looking for financial benefit from coming forward, the victim replied, "Zero."
Oh, I forgot to mention, Victim 6 just recently graduated college – Bible college.  It's where he wants his path in life to go, he said…
"He made me feel like part of the family" "I loved him" "I'm mad, I'm enraged, I'm hurt … he could just forget about me like I was nothing after I was sent away,"
---
Victim 3 was 12 years old when he met Mr. Sandusky through a Second Mile Program.  Soon, he was in his car.  "The hand on the knee thing happened right away," Victim 3 testified. "That was a big thing for Jerry, rubbing the hand inside the leg and tickling me."
When it was time to go to bed, he said "He would come in and he would have his shirt off. I would be in all my clothes. He would say to me, why I would want to sleep with all my clothes on. I would strip down to my underwear."
He went on, testifying that Sandusky "would sit on the edge of the bed and make me laugh and whenever he made me laugh he got excited and jump into bed with me and start tickling me, start blowing on my stomach, pelvis, he would also at times he would touch my penis."
Victim 3 said that by this time he had viewed pornographic magazines but knew that this shouldn't be happening between a man and a boy.  Jerry would touch his penis and give him an erection.  The boy said he would roll away to make him stop.  "I would roll over and try to get away from him. I knew I wasn't supposed to have (an erection) from a man."
Similar to Victim 6, in the shower, Victim 3 would go to the opposite wall and turn on a shower, but Jerry "would make me feel bad about it, and he made me move closer to him," Victim 3 said.  "He would wash my shoulders, my butt, my back. He would pick me up and bear hug me – he would give me a real big hug in the air, both with my back to him and with my front to him."
Both were naked in the shower.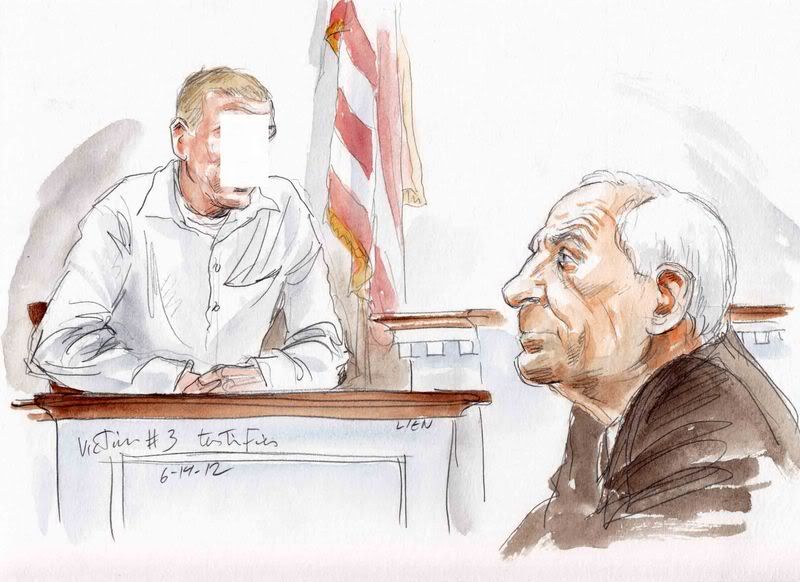 Victim 3 testified that he didn't say anything because he didn't want to lose all of the "stuff" he was getting.  Having never known his father, Victim 3 viewed Sandusky as a father figure.  "He made me feel like I was part of something, part of a family, giving me things that I didn't have before. I loved him," the slender blonde man said in testimony that capped the fourth morning of proceedings here.
"Did he ever tell you how he felt about you?" McGettigan asked.
"That I was extended family, unconditionally loved," the man said.
When asked his occupation, Victim 3 said he was in the Air National Guard.  On cross-examination, Amendola asked his work schedule, and Victim 3 confirmed it was one weekend a month and 3 weeks a year.  On re-direct by Mr. McGettigan, Victim 3 was asked if he served one weekend a month and 3 weeks a year in Iraq, to which the victim replied "No."
Immediately upon leaving the second foster care home, where he felt abandoned by Mr. Sandusky, whom he viewed as a father figure, whom he loved, who I feel he still loves to this day, this brave young man joined the Air National Guard, served our country, and is a war veteran, having served one tour of duty in Iraq.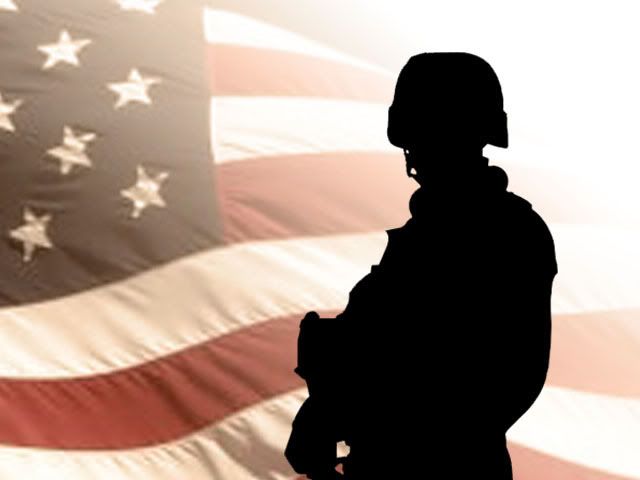 Agent Anthony Sassano
---
Anthony Sassano leaving court
"A lot of people wanted to keep it secret"
Testimony resumed with the commonwealth calling Anthony Sassano to the stand. Sassano is an agent for the Attorney Generals office who led the Sandusky investigation.
Sassano testified that the investigation into Jerry Sandusky began on December 12th, 2008, after Victim #1 reported inappropriate physical contact. Sassano did not come on to the investigation until around April or May of 2009. The state police had led the investigation initially-which he indicated was unusual, but did not elaborate. He did say that the investigation was turned over to his office after it was found that the DA originally on the case had a conflict of interest.
When asked how they discovered the incident observed by Mike McQueary, he stated that an anonymous email was forwarded to him after the investigation was underway, indicating that McQueary was "someone we needed to speak to".
Sassano said that getting victims to come forward was difficult for 2 reasons. One-because of the nature of the crime itself. At the time, 2 of the witnesses were still minors (14 and 15 years old) and were embarrassed to talk about it.
Then he said something else that I found quite interesting.
He said the other reason for the difficulty in identifying victims was-and this is more or less a direct quote-"This is something that had been going on for a very long time. It was kept very secretive, and a lot of people wanted to keep it secret. The Second Mile saw hundreds of thousands of children per year. They handed out these business cards with pictures of footballs on them to the kids…"
This is where he was cut off. I believe it was Judge Cleland who stopped him, and called for a sidebar. Someone from the defense side approached Mr. Sassano (bear in mind-this was the prosecutions witness) and whispered something to him. He nodded. And then testimony resumed.
McGeddigan asked how the victims were identified. Sassano testified that they worked from a few different sources:
•A list of children from The Second Mile which was narrowed down to those children who lived within an hour of state college •Sandusky's autobiography "Touched", where he mentioned several children. •Children found in photographs discovered after executing search warrants in his home and the Penn State storage room
Sassano said that he was led to the Penn State custodians after he read the report by the Penn State police about the incident with Victim #6. Comparing that report, and the statement made by Mike McQueary, he found that there were 2 key similarities between the two-Both incidents had happened in the Lash building on Penn State campus during "non-peak hours" (i.e., in the evening) And who would have been around during that time? The custodians. So that's where they went next.
He added, with a hint of bitterness, that Penn State was "not quick" about answering subpoenas, and getting them the information they needed.
"I am the great pretender"
On June 21, 2011, a search warrant was executed in Jerry Sandusky's residence. The prosecution then published several of the items they discovered.First there were pictures taken of victim #1, which were quite disturbing. There was a picture of Sandusky with his arm around Victim #1. He had wet hair. Given all of the testimony we have heard about Sandusky assaulting children in the shower, it was hard to look at.
There were a number of pictures of Victim #1 at sporting events-at his wrestling matches, and at track meets. Sandusky was clearly taking them from the stands. In one of the pictures, Victim #1 is at a wrestling meet, standing sideways and looking up directly into the camera with a look of fear in his eyes. It is as if it was snapped at the exact moment he saw Sandusky sitting in the stands, watching him. Recall that Victim #1 testified that he dropped out of football because of Sandusky's constant presence at his practices.
In Sandusky's residence, they also found printed lists of the boys who attended "The Second Mile" summer camp in 2005, complete with their addresses and phone numbers. Several of the names had stars written next to them. Among those names were 2 of the known victims who testified that they first met Jerry Sandusky at the Second Mile summer camp in 2005-Victim #1, and Victim #9.
On another list, Sandusky had written down the names of several boys from the camp list-and next to the names had listed both their clothing and shoe sizes. Among those names were the same two boys.
Sassano said that he was finally able to search the grounds of Penn State-noting that it took "a lengthy period of time" before he was given access. He searched a room that had been abandoned some time in 2008 where the school stored items from Jerry Sandusky's office.
In the boxes, he found several items of interest. First, he found multiple photographs of Victim #4 which were published into evidence.
This series of photographs were taken in the Penn State locker room, with Victim #4 posing in the jersey of Lavar Arrington. In the first photo, Victim #4 is posing in what I can only describe as a pin-up pose, with his arm behind his head. In another photo, Jerry Sandusky has his arm around the boy-and it presents the startling contrast between their physical statures. In another photo, he is bending over facing the camera. And in the final photo, he is shown from the side, posing like a quarterback getting ready to throw the ball.
They also found an instructional video that Sandusky made in 1999, where Victim #4 is featured in the background, a print out of information from the Second Mile database on victim #6, and another "camp list" from 1995. On this list, there is a star beside the name of victim #7. There were other camp list from 1998, with slashes next to the names of #6, #4, and #10. So, if you are keeping track-that means that 6 out of the 8 who testified were notated on these "camping lists".
They also located copies of the "love letters" sent to victim #4 (see Roxine's diary for more info on these) as well as a copy of the contract between #4 and Jerry Sandusky, in which he agrees to abide by certain behaviors (i.e. getting good grades) in exchange for monetary compensation. Of note-the original draft of the contract which was never signed states that Victim #4 would recieve $36/week. The one he ultimately signed was for $60/week.
But the most disturbing piece of evidence for me was story written by Jerry Sandusky, which he titled "The B-J story"
The B-J story was written about Sandusky's relationship with victim #4. It is quite bizarre, and Sassano read it quickly-so this is just paraphrasing and not word for word.
"It was a difficult time for Jerry, his father had just died. Jer and his father had many shared experiences. __ would say "tell me another story Jerry". Jerry didn't want the ride to end. Jerry became attached to _. Jer considered __ his "best friend" … Something has come into __'s life to take him over. He is losing these battles more and more. A dark cloud has taken over his life, turning his caring into apathy, making him say 'I don't care', killing his feelings. There is something very special inside _, and Jerry hopes he will see it again. Jer may not be worthy, but he hopes he can have his best friend again"
Finally, there was another paper, on the top of which had the title "The Great Pretender" in Jerry Sandusky's handwriting. Again, it was read too fast for me to get all of it, but here is a basic rundown of this very creepy love letter that was sent to Victim #4:
"Yes, I am a great pretender. I pretend I can sing, I can pretend many things. I can't pretend my feelings for you."(Not always a pretender)"
Victim #9
The prosecution wrapped with the tesimony of Victim #9. I will warn in advance that what he testified to is absolutely horrific.
Victim #9 is 18 years old, slightly built, and looked nervous and deeply ashamed as he took the stand. He spoke in a low voice that sometimes cracked. He's one of those kids that you look at and can just tell has had a really rough life.
"No one can hear you down there"
McGeddigan started off by asking him some questions designed to go at the heart of the defense-namely, did he have a lawyer? He testified that he did not. In a moment of levity, he quipped "you are my lawyer!"
"Oh, are you going to pay me then?" McGeddigan asked. "Sure, I'll try" he said.
That was the first and last time he smiled.
Victim #9 grew up in a trailer park in a small town outside of State College, raised by a single mother who worked as a bartender. Like many of Sandusky's victims, he never knew his father. He was later placed in foster care.
Victim #9 was referred to the Second Mile in 2004, when he was 11 years old. He attended the camp for 3-4 summers. Once again, Sandusky first approached him when he was in the pool at camp, and asked him if he wanted to "hang out" some time. McGeddigan asked Victim #9 if he thought that sounded like a good idea.
"Sure" he said. "He was a well known guy, and he seemed nice"
Victim #9 started going to Sandusky's home and to football games with him, and stayed in contact with him from the time he was 12 until he was 15 years old.
McGeddigan asked what his impressions were of Mr. Sandusky. He shrugged. "At first he was nice and stuff" he said in a soft voice. He said he played games with him and took him out to eat. He bought him a running suit, a rocket ball, a tennis racket, and a pair of sneakers.
McGeddigan then asked if Sandusky ever did anything that made him feel uncomfortable.
Victim #9 sighed heavily, and then began to speak in a low monotone voice. Sandusky, he said, started with rubbing and "cracking" his back. He hugged and kissed him all over. McGeddigan asked if he ever said anything to Sandusky about this.
"Yes", he said. "I told him to stop"
Did he ever tell his mother?
"Yes" he said. He told his mother that Jerry was a "touchy feely kind of guy", but did not elaborate.
He also stated that when he was in the pool with Jerry, he always "had his arms around me" and that made him feel uncomfortable. At the time, he said, he was around 5 feet tall and weighed around 67 pounds. Like so many of his victims, he was small for his age. Like Victim #7, when they showed a photograph of him at age 12 there was an audible gasp in the courtroom. He looked no older than 7 or 8.
McGeddigan asked him if there was anything else that Sandusky had done. Victim #9 was obviously  uncomfortable, and started twiddling his thumbs, shifting around in his seat and looking down at his lap.
"He started kissing me, first on the cheek, and then on the lips" he said. "And then, he made me touch his penis."
"Did you want to touch his penis?" McGeddigan asked.
"No", he said, emphatically.
McGeddigan asked why he continued to go to Sandusky's house. Victim #9 testified that he didn't want to go, but that his mother made him. She wanted him to have a good male role model, and thought he was a positive influence in his life.
When McGeddigan asked if he ever told his mother about being forced to touch Sandusky's penis, he said "no",and then added-"How are you supposed to tell your mom something like that?" McGeddigan pressed on. Was there anything else that Jerry Sandusky had done?
After a long pause, Victim #9 said "He made him suck on his penis."
The first time he did it, he came into his room and pulled his pants down and lay on top of him, and forced himself into his mouth-verbally ordering him to perform oral sex on him.
"I mean, what was I going to do?" he said. "He was a big guy, bigger than me. Much bigger than me"
He went to the Sandusky home every weekend from Friday to Sunday. He guessed that he went there 100-150 times-usually sleeping in the same basement room that Victim #1 testified about with the water bed.
McGeddigan then asked him Victim #9 if there was anything else that Jerry Sandusky had done which he hadn't testified about. He dropped his head, and said in a voice so low it was barely audible "yes". After a few moments pause, and taking a long, tortured breath, he mumbled "he put his penis in my butt".
Sandusky did this for the first time when he was 13 years old. He testified that he was in the basement bedroom when Sandusky came in and performed oral sex on him. Then, he started to get "more agressive", and forced him down and sodomized him.
"I just went with it," he said. "There was no fighting against it. … Sometimes [I'd] scream. Sometimes tell him to get off of me. But other than that, he was there, you were in a basement, no one can hear you down there."
McGeddigan asked if he ever called his mother. Victim #9 stated that he had-he was supposed to sleep over one night, but snuck off and called his mother, and asked her to pick him up-and she did. When asked why-he stated "I had enough of it". That was the last time he ever spent the night in Sandusky's home.
"Who's going to believe kids?"
When asked about his relationship with Sandusky, he said that he was nice to him at other times. He told him that he loved him, and wished the best for him. When asked how he felt about that, he said "I thought it was creepy. But I was a kid so what did I know?"
Victim #9 said he never told anyone what happened because "Who would believe you? He's an important guy. Everybody knows him. He's a football coach. Who's going to believe kids?"
In perhaps the most compelling moment of the trial, McGeddigan asked Victim #9 to point to the man who "made you perform oral sex, and put his penis in your butt". He pointed to Jerry Sandusky-although he avoided eye contact. "I don't want to look at him" he said.
While I like and admire Art Lein, I have to say that his picture is not quite accurate. When Victim #9 pointed at him, Jerry Sandusky was smiling.
Cross Examination
Surprisingly, Amendola did not question Victim #9 about the fact that his story had changed over time like he had with the others. I'm not quite sure why-since Victim #9 probably had the most radical shift-going from saying nothing happened initially to testifying that he was forcibly sodomized. Perhaps it is because McGeddigan addressed this quite extensively in his direct exam.
Amendola asked Victim #9 about the forced sodomy. Did he bleed?
"Yes" he said, with a heart breaking matter-of-factness, and then added "I just dealt with it. I have a different way of coping with things"
He asked Victim #9 about how often he stayed at the Sandusky's home between 2005-2009. He said he was there every weekend, and he was usually the only one there. Amendola didn't belabor the point, but I know exactly where he was going with that-this statement conflicts with Victim #1′s account, since he was also frequently at the Sandusky home during the same time period.
Unfortunately, because the commonwealth will not allow an expert witness to testify, no one will be able to explain to the defense that prolonged serious trauma warps your perception of time. For example-I was molested over the course of a summer. I have no memories of that summer outside of being at my friends house, where the sexual abuse occurred. I'm sure I did not spend the entire summer there-there are pictures of me doing other things with my family, going to sleepaway camp, etc.-but I remember none of it. Only being in that house. This is very typical.
Amendola also raised the issue of Victim #9 continuing to be in contact with Sandusky up until very recently. When was the last time he spoke with Sandusky? He asked. Victim #9 said it was in 2011, and that Sandusky had called him to let him know that he was under investigation-and asked Victim #9 if anyone had asked him any questions. He asked him to "stick up for him".
"In that conversation, did you tell Jerry Sandusky that you couldn't believe anyone would say that about you, you are such a nice person" Amendola asked.
Victim #9 looked incredulous. "No" he said. "Definitely not".
Amendola asked him about the fact that he had continued to go to football games with Jerry Sandusky, as recently as this past September. Victim #9 admitted that he had, but stated that he had only gone because he had a frield with him. His friend had never been to a football game before, and he wanted him to get a chance to go. "I knew he would have my back" he said "if anything went down"
Amendola then asked Victim #9 if he had ever sought medical attention after he was sodomized by Sandusky-to which he replied that he hadn't. "And your mother never saw any blood in your underwear?"
"No" he said.
"But you did bleed?"
"Yes" he said, for the second time and then added
"I handle things differently than other people"
After his testimony court adjourned.  ‪Sandusky‬ paced, hands in pockets, looking defeated.
Final Impressions
---
This week has been an emotional roller coaster, and I'm still trying to dowload everything I have heard and seen in the past 4 days. Thankfully, I have 3 days off before the defense begins their case on Monday.In the meantime, here are a few of the impressions I am left with.
Jerry Sandusky is guilty
And I believe that he will be found guilty by the jury on the majority-if not all-of the charges. He will go to prison for the rest of his life, and he needs to be there. He is incredibly dangerous. I believe his behavior with his last 2 known victims-with the stalking of #1 and the agressiveness of his rapes on #9 would have eventually led to him killing one of his victims.
Jerry Sandusky used his charity as a pipeline for young boys.
When I first heard that Jerry Sandusky ran a charity for troubled youth, I had a sinking feeling. The last 4 days of testimony have confimed all of my fears. The Second Mile was used as a pipeline for Jerry Sandusky. He met every single one of his victims through there-and the pattern was always the same.
He would meet the boy at summer camp, usually in the pool, introduce himself and then ask if they wanted to go to a football game with him some time. And being 10 and 11 year old boys, naturally they would say "yes"
He would call their home, and pick them up. He would become friendly with their parents or guardian in the process.
He would start spending more time with them-bringing them to games, around his family, and to his home. By doing this, he was normalizing contact with them. He would start normalizing physical contact with them as well-bear hugs, kisses on the cheek, his hand on their knee, their thigh while driving. Tickling and back rubs escalated into taking showers together. He was testing their boundaries.
From there, he would escalate to fondling, and performing oral sex on some of his victims. I believe there is a reason that he performed oral sex on his victims long before he had them do anything to him. A body-even a childs body-responds to stimulation. These boys were old enough that they would have probably gotten an erection when they were orally copulated, and possibly even experienced orgasm. Those involuntary physiological reactions no doubt filled them with shame and confusion-and it made them so humiliated that they were afraid to tell anyone what happened. It was only after establishing this that Sandusky would have his victims perform oral sex on him.
He would use money, gifts, trips and attention to keep these boys in his grasp. Many of the victims testified that they continued to stay in contact with him because they wanted this to continue. There is a reason that Sandusky chose boys who were economically disadvantaged- growing up with single moms, in trailer parks and public housing, kids who never experienced anything like the world he introduced them to. Access to the Penn State football program, trips to games, a house with a basement filled with so many games and activities that agent Sassano testified that it looked like an "arcade". He bought them gifts, and he made them think that he cared for them.
As Judith Herman wrote in "Trauma & Recovery"
Participation in forbidden sexual activity […] confirms the abused child's sense of badness. Any gratification that the child is able to glean from the exploitative situation becomes proof in her mind that she instigated and bears full responsibility for the abuse. If she ever experienced sexual pleasure, enjoyed the abuser's special attention, bargained for favors, or used the sexual relationship to gain privileges, these sins are adduced as evidence of her innate wickedness. The child entrapped in this kind of horror develops the belief that she is somehow responsible for the crimes of her abusers. Simply by virtue of her existence on earth, she believes that she has driven the most powerful people in her world to do terrible things. Surely, then, her nature must be thoroughly evil. The language of the self becomes a language of abomination. Survivors routinely describe themselves as outside the com-pact of ordinary human relations, as supernatural creatures or nonhuman life forms. They think of themselves as witches, vampires, whores, dogs, rats, or snakes. Some use the imagery of excrement or filth to describe their inner sense of self. In the words of an incest survivor: "I am filled with black slime. If I open my mouth it will pour out. I think of myself as the sewer silt that a snake would breed upon" […}The profound sense of inner badness becomes the core around which the abused child's identity is formed, and it persists into adult life"
Jerry Sandusky acted with premeditation
We know of 2 victims who he anally raped, and one who he attempted to anally rape-although I believe there were more, and suspect that at least one of the other victims who testified was subjected to that as well, but could not yet bring himself to admit it. Of the two victims who testified to this (victim #2, who McQueary walked in on, did not testify) both were boys who had long term, very close relationships with Sandusky. Victim #4 was the subject of love letters and was a constand presence in the Sandusky home and on trips out of state. Victim #9 also had a very close and long term relationship with Sandusky. He was very careful not to do this particular act with just anyone. That goes to his planning, which was quite meticulous.
Jerry Sandusky was a serial child predator, and an expert groomer. The lists that were introduced into evidence-where he put stars next to the names of certain boys, and wrote down their clothing sizes-shows a man who planned his predation far in advance.
These boys were not unlucky-they were targeted.
Jerry Sandusky was aided and abetted
Look at the facts-every single one of his victims was involved in "The Second Mile". All of them were first approached by him at the summer camp.
And as I have diaried about here before-JERRY SANDUSKY WAS RUNNING THESE OVERNIGHT CAMPS ON THE PENN STATE CAMPUS UP UNTIL 2009
2009. EIGHT YEARS years since Mike McQueary walked in on him raping a 8-10 year old child in their locker room. Almost TWENTY YEARS since he had been caught taking a shower with an 11 year old boy at night. And remember what McQueary senior tetified to yesterday? In a private meeting with Gary Schultz, he was told "there have been noises about this kind of thing for a long time"
"A lot of people wanted to keep it a secret"
I have more thoughts about this, but I will have to put them in a separate diary. But suffice it to say, something stinks in State College, and it's far worse than anyone even realizes.
Previous                           Next